Short Boom Earworn Headset Microphones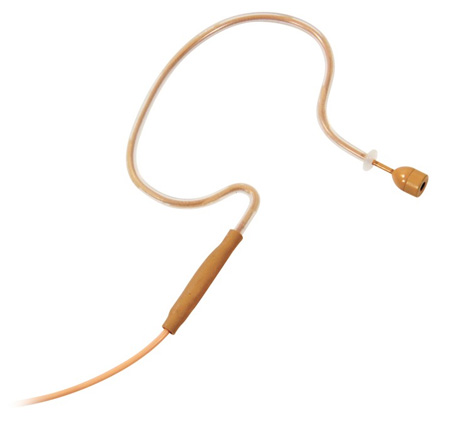 AVTronics™ Short Boom Earworn Headset Microphone

A nearly invisible mic with a light weight, comfortable design and a shortened boom to
help keep the mic even more inconspicuous.
AVTronics has designed the AVT Short Boom ear worn mic to give you great response at a price that
will not break your budget!

A nearly invisible mic with a light weight,and comfortable design. An omnidirectional element and frequency response
of 50Hz-18KHz. The ear worn mic can replace your existing lapel or just be used by speakers who prefer a headset. 
The extra short boom will make this microphone even more inconspicuous than your current earworn microphone.
Available in neutral beige for AVTronics, PendoMax, AKG, Kingdom, Audio-Technica, Samson, Shure, Nady (3.5mm jack),
Electrovoice, VocoPro and Sennheiser. If you have been looking to get a quality earworn mic at a great price,
this is the headset for you.
Technical Specs:
Color: Beige
Polar Pattern: Omnidirectional
Frequency Response: 50Hz - 18,000Hz
Element: Back Electret Condenser
Operating Voltage: 1V - 10V DC
Sensitivity: -60dB +/- 3dB
Impedance: 1,500 Ohms +/- 30% (at 1 Khz)
Dimension: 5.2 mm (Mic Head) x 155 (L) mm
Approx. Net Weight 10 grams / .35 oz
Approx. Packed Weight: 55 grams / 1.94 oz
Box Dimensions: 22 x 13.7 x 2 cm / 8.7 x 5.4 x 0.8 in
Accessories Included: Windscreen and Cable Clip