PendoMax 4 Microphone Wireless Systems
PENDOMAX™ 4 Microphone Wireless Systems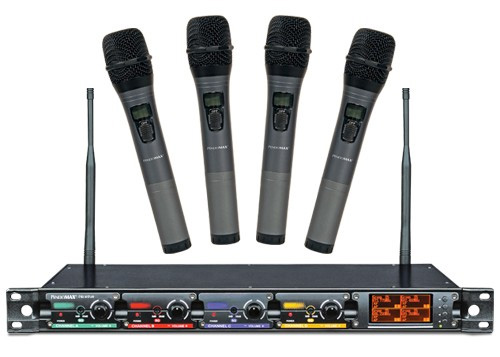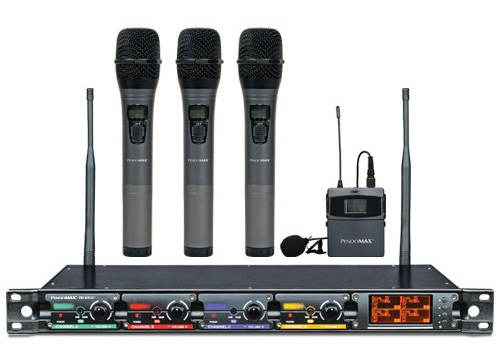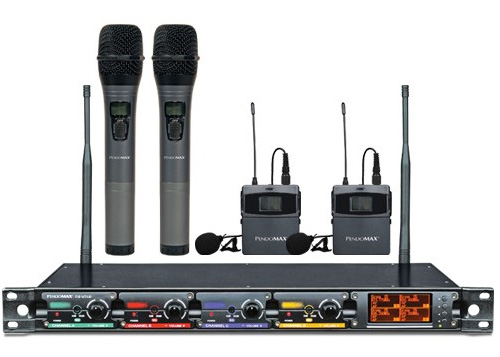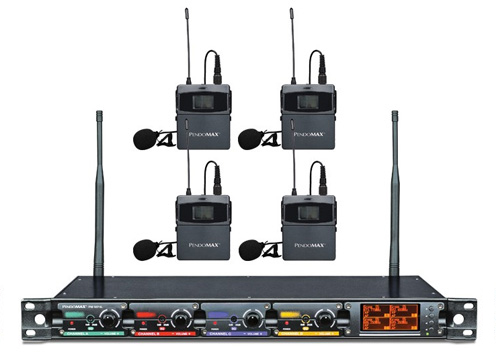 Details
With the PendoMax 1000 Frequency 4 Microphone System you can give 4 speakers or vocalists their own microphone!
The PendoMax 1000 Frequency 4 mic system is available in three different configurations. Select from a system with 4 handheld microphones, one with 2 handheld microphones and two lapel microphones, 3 handheld microphones and one lapel microphone or 4 lapel microphones. The variety of configurations and 1000 frequencies make this microphone perfect for virtually any need!
The PendoMax Body Pack comes with a lapel mic and can be used as a replacement for one of your handheld mics.
Features:
Working Distance of up to 200 feet or more

Frequency Selection modes, IR Sync capable

Individual volume controls

Operate 4 pro microphones at once

Uses 2 AA batteries per handheld mic (2 AAA batteries per lapel mic)

Works well in both rural and highly populated areas
Technical Specifications:
Handheld Transmitter Specification
Carrier Wave Frequency Range: UHF 668-692 MHZ

Frequency Response: 40Hz ~ 18 KHz

Type: Dynamic Cardioid


Working Distance: Up tp 200 feet

Transmitter Power: ~12mW conducted

Display: LCD

Requires 2 AA Batteries
Bodypack/Beltpack Transmitter Specifications
Carrier Wave Frequency Range: UHF 668-692 MHZ

Frequency Response: 50Hz ~ 18 KHz (possible with beltpack. Actual will depend on mic attached. The lapel mic included hasa reported frequency respons of 50Hz ~ 16KHz

Working Distance: Up tp 200 feet

Transmitter Power: Approximately 10mW conducted

Beltpack Jack: 3.5mm/ 1/8 inch lockable jack

Display: LCD

Lapel Mic Included

Requires 2 AAA Batteries
Receivers Specifications
Carrier Wave Frequency Range: UHF 668-692 MHz

Display: LCD

External Wall Wart Power Supply

Output Connections: Balanced XLR, Unbalanced 1/4" (TRS 6.35mm)